Falmouth Tides Location & Contact Information
We Look Forward To Seeing You Soon!
Falmouth Tides hotel is located on a scenic peninsula between Vineyard Sound and Falmouth Harbor in Falmouth, Massachusetts. We are adjacent to the harbor, which offers transient yacht tie-up for vessels up to 250 feet in length. Falmouth's main avenue, home to world-class restaurants, shopping, and nightlife, is just moments away, and hotel guests enjoy free shuttle service to and from.
For more information about our hotel, to book accommodations for a Cape Cod getaway, or to leave a comment or suggestion about a recent experience with us, please contact us today.
Falmouth Tides
267 Clinton Avenue
Falmouth, MA 02540
Falmouth Tides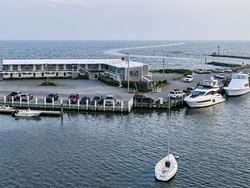 For travelers seeking the quintessential New England coastal getaway, Falmouth Tides is an experience few other hotels can match.